Breeders Cup Handicappers
The 2011 Breeders Cup World Championships of thoroughbred racing are at hand. The top contenders for the Breeders Cup are finishing up their final workouts and preps and are gearing up for the big days.
Friday and Saturday
November 4th and 5th
Churchill Downs
2 days of the worlds most prestigious racing event, as the top division leaders from across North America and the world compete for millions in purse money.
----- Breeder's Cup Tip Sheet -----
We will be handicapping the Breeders Cup both days- and we will send an email with all of our selections. Each days races will be available late night/ early morning before each day's races (Fri & Sat) to all club members. We will also post a limited number of free Breeders Cup picks on the web site . . . to get all of the Breeders Cup Picks- click here-.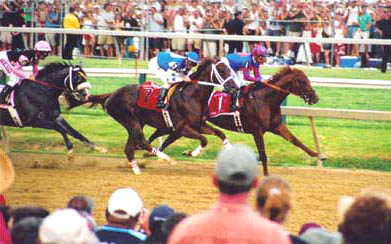 Top Speed Figures 2 yr olds
HORSE
TRK
DATE
DIST
SPEED
RATING

---

2011 Top 2 year old's Speed Ratings

J C's Pride
SAR
27 Jul
5F
101
Stopshoppingmaria (f)
SAR
14 Aug
6F
101
Overdriven
BEL
01 Jul
5F
100
Creative Cause
HOL
16 Jul
5F
98
Currency Swap
SAR
06 Aug
6 1/2F
98
Secret Circle
DMR
23 Jul
5 1/2F
97
Canigotoo
LS
16 Jun
5F
96
Me and My Gals
HOO
01 Sep
6F
95
Seeker
SAR
05 Sep
5 1/2F
95
Sword Trick
RET
24 Sep
6F
95
Union Rags
SAR
15 Aug
6 1/2F
95
Overdriven
SAR
24 Jul
6F
93
Sister Moon (f)
DMR
21 Aug
5 1/2F
92
Twelve Hundred
AP
14 Jul
5 1/2F
92
Mr. Style
SAR
27 Jul
5F
91
My Miss Aurelia (f)
SAR
14 Aug
6 1/2F
91
Tu Endie Wei (f)
WO
25 Jun
5F
91
Drill
DMR
07 Sep
7F
90
Giant Surprise
SAR
30 Jul
6F
90
Millionreasonswhy (f)
SAR
14 Aug
6 1/2F
90
Norm's Passion
DMR
04 Sep
5 1/2F
90
Voodoo Daddy
SAR
17 Aug
5F
90
Hansen
TP
09 Sep
5 1/2F
89
J C's Pride
BEL
01 Jul
5F
89
Majestic City
DMR
07 Sep
7F
89
Majestic City
HOL
17 Jul
6F
89
Tricky Suspect
LAD
24 Sep
6F
89
We are handicapping the Churchill Downs full card as well as all of the Breeders Cup races and feature selections for more tracks;
Santa Anita, Calder, Hawthorne, Delaware, Parx, Laurel, Woodbine, & more tracks and Bonus: AQUEDUCT full card picks both days! Over 100 tips over 2 days!
Winners, long shots, exactas, triples, pick 3s, daily doubles and more. All of the races laid out and how to bet them- sent to your email - see example - we use the secure PayPal server to conduct online transactions and we never share any of your information with anybody.
Online over 8 years - and winning! Impress your friends with our Breeders Cup selections.


Sites:
Horse racing tips and Breeders' Cup picks for the 2011 World Championships of thoroughbred racing
Tip Sheet for the 2011 Breeders Cup at Churchill Downs
Horse racing tips and picks for the all top North American Tracks- Belmont, Aqueduct, Saratoga, Gulfstream. Oaklawn, Santa Anita, Hollywood, Calder, Fairgrounds, Woodbine, Churchill Downs, Keeneland, Ellis and more
Horse racing tips professional handicappers horse racing selections & Breeders Cup Picks
Inside Horse Racing tips..info on trainers, owners, jockeys, breeding and more
Churchill Downs tips and Breeders Cup picks for the 2011 World Championships of thoroughbred racing
Top contenders are vieing for the top honors on racing's biggest day
Churchill Downs tips and full card Breeders Cup picks for the 2011 World Championships of thoroughbred racing
Top contenders are ready for the top honors on racing's biggest day